Mississippi Native: Maya Miller
"I get tired, but the whole world is Mississippi. Where else could I possibly go for rest?"
What does it mean to call Mississippi home? Why do people choose to leave or live in this weird, wonderful, and sometimes infuriating place? Today we hear from journalist, photographer, and Rooted community editor Maya Miller.
First things first—what made you want to join the Rooted editorial team?
As I travel as a journalist across the Deep South, I've found that there truly is no place like Mississippi. Being part of Rooted gives me the opportunity to tap into communities that I live in and walk alongside, to ask Mississippians why we care about this state as much as it fights our efforts to love it, and to share stories of place from those who will always have a home here. 
Where are you from?
I am from southwest Rankin county, Mississippi—from a town where you can get barbecue from the same place you can get your haircut and a full tank of gas. It's a quiet place with a four mile long road named after my great-great grandfather and great-great uncle. That doesn't sound that long of a distance, but in every home I pass on my evening walks resides a relative whom I've chipped off traits like a jigsaw puzzle and patched into who I am. A place of Black farmers and tradesmen, schoolteachers and slim-ankled women who dipped snuff and pressed their hair in the early Sunday morning hours.
How long have you lived in Mississippi?
Since August 13, 1993
What does "home" mean to you? How does Mississippi fit into that definition?
Home is where I can pitch my mop water out into the yard and watch as the bubbles soak up into that St. Augustine grass. Home is where my mother would call Aunt Cleo, or maybe Aunt Lois, to keep me for the night while she would take classes at the local community college. Home is where the purple and red lights in a hole-in-the-wall glint off a gold tooth. Home is where white stockings and a slip hang off of the shower rod. Home is where you take in the stars at night with the family of deer that return every winter. 
Mississippi is the hardest soft place I think anyone could hope to land. It's warm and sticky like honeysuckle nectar. A world of effort for a little reward, but it tastes good to dream.
How have you cultivated community in Mississippi? Who are the people who have made you feel rooted here?
I've cultivated community by being in a lot of places at various times. I spent my 20s either serving coffee as a barista or chasing sources as a journalist. You learn people's habits and curiosities by asking guiding questions and holding space for whatever the reply might be.
I have always questioned why Mississippi is the way it is, who lives and loves this place and fights for it in whatever way they can. Oftentimes, the answer is in a double shot of espresso and a slice of coffee cake, either handed off or shared.
I feel rooted to the people who remind me that being Black in Mississippi isn't just about being in Jackson. My friend Reagan who reminds of red clay and chantilly cake. My step-father who reminds me of an ice-cold Coke in a glass with a plate of chicken gizzards and the D'Lo water park. The older woman at the Sunflower who holds my elbow in one hand when she laughs and a soft white tissue in the other, crumpled with lipstick on one edge feels like me in some far off future that I won't let myself think about too hard.
There's something there that I don't have a name for yet that threads us all together, but for now, I think it's just Mississippi.
What's the weirdest question or assumption you've encountered about Mississippi (or about you as a Mississippian) by someone who's never been here?
Honestly, I think the weirdest assumption I've encountered about Mississippi was from a man I met in Grand Central Terminal in New York City, 2016. He was from Greece and had asked me to take his photo for his wife and son. When he asked where I was from, I said "The South." In reply, he asked, "Oh, don't they put your men in jail though? Colored men are always in jail."
I'd been in NYC for a juvenile justice fellowship, and while he wasn't necessarily wrong, I was gutted to learn that that was all he knew about the South—how stacked the prison system is with Black bodies.
I cried and got lost in Manhattan until midnight and decided then that I was going to write less about prisons and more about pockets of Southern resistance. 
How has living in Mississippi affected your identity and your life's path?
As a writer, I feel like I was supposed to have read the great Mississippi authors to be good at it, but I'm going to be so honest: Faulkner puts me right to sleep. But one thing that changed my life was meeting Jesmyn Ward my senior year of college. Here she was, a Black woman who told stories of circumstance and survival and community and love and Blackness in a way that cut right to the meat of all that I'd felt like my world was. I was a kid who ached for language, and she spoke to me. So, I read and I wrote, and now I do both for a living.
Living in Mississippi means that I have to defend my state constantly. I have to weigh my options every waking second. Married or unmarried. Motherhood or childlessness. Living. Loving. Repeat. I get tired, but the whole world is Mississippi. Where else could I possibly go for rest?
What is something that you've learned about Mississippi only by living here? In what ways has Mississippi lived up to your expectations?
The myriad ways meats can be smothered.
Do you ever consider moving away someday? Does a sense of duty keep you rooted here?  Do you have a "tipping point"?
I inherited history from my great grandmother. I have a home here, and I don't ever want to give it up. My sense of family keeps me here, but I don't think I'll stay forever. I want to live somewhere with a fire escape and reliable public transportation for a few years, then come back and start a homestead. But the more that I cover news and reproductive rights issues, the less I want to stay. Abortion rights being overturned was probably the start of a nudge for me to seek out something new, and then I found my current job which keeps me here. There are stories here that must be told. Women that I give love to and hold space for, who look like me might die. I want to be here for them.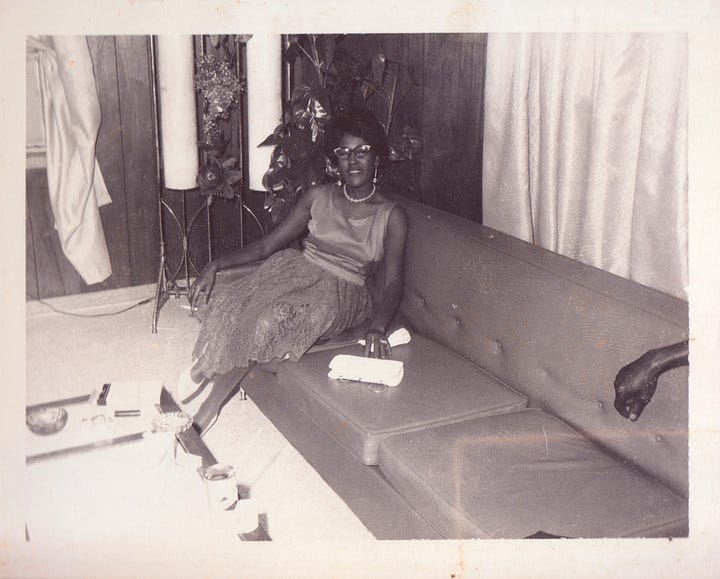 Do you have a favorite Mississippi writer, artist, or musician who you think everyone needs to know about?
Jesmyn Ward saved my life, and I'm not even trying to be facetious or dramatic as I'm wont to do (I'm a Leo).
I come back to

Sing, Unburied, Sing

often, because my grandfather used to say he loved me so much, he would go to Parchman for me. It was a wild thing to say to a child—I knew that at the time—but I could never quite parse how it made me feel.
This book feels like those muggy summers riding in the Tracker, connection to ancestry and the desperation of wanting someone to love you so much that they get well for you. Seriously, she's amazing.
If you had one billion dollars to invest in Mississippi, how would you spend your money?
I would put it all into cultivating community and the humanities. More music. More dancers. More photographers. More farm to table pop-ups. Painters. Poets. Filmmakers. Writers and orators. Throw in a library or two. Art studios everywhere. Someone has to know how to fire ceramic mugs to keep the coffeeshops stocked.
I know a billion dollars is a lot of money for paint and film, but it's my imaginary debit card, right?
What or who do you want to shamelessly promote? (It can absolutely be a project you're working on, or something you are involved in.)
Support public radio and local news.
---
Maya Miller
,
Rooted
community editor, is a lifelong Mississippian and aspiring cowgirl. She graduated from Jackson State University where she studied psychology and biology. She began her journalism career as a justice reporter for the Jackson Free Press, and she is currently the reproductive health reporter for
The Gulf States Newsroom
. Maya is also an avid fiction reader and film lover. Follow her on Twitter @MayaLMiller.
Rooted Magazine is a reader-supported publication. To receive new posts and support our work, consider becoming a free or paid subscriber.